Pasco School to Pasco School Transfers: As of March 25, 2020, all students who have moved within Pasco county should contact their CURRENT school of enrollment for instructions regarding address updates, withdrawal, and enrollment status for the rest of the 2020 school year.
Out of County & Out of State Transfers: If you recently moved to Pasco county, please contact the previous school of enrollment for guidance regarding withdrawing and completing the 2020 school year.
What school should your child attend? To determine if your child is zoned for Hudson Middle School, an address search can be completed by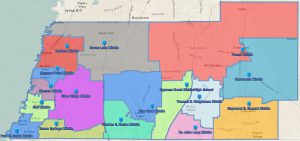 following this link: 2020-2021 School Boundary Search by Address
Complete the registration packet fill in form below in its entirety,
Complete a course request form for the grade level the student expects to be enrolled in next school year,
Send the completed PDF documents as an email attachment,
Include in your email if you intend to enroll your child to finish this school year or begin next school year,
Email the completed PDF documents to Ms. Teresa Asay. To complete this school year, students will be placed in courses that most closely match the courses in which they were enrolled at their previous school.
(two registration packets that contained MIS forms)If you need to speak with our Registrar, Mrs. Teresa Asay, she can best be reached via email at tasay@pasco.k12.fl.us or (727) 774-8231  (this is a Google Voice out of office telephone line). Please make sure to leave your name and telephone number for her to contact you.